If you are not maximizing your time, feeling clear about your purpose, and living with real joy - that needs to change.
This top-level Executive Coaching program will slingshot you help you uncover your blindspots, discover your strengths and capitalize on your full potential.
With Enthusiasm®️is a multi-disciplinary executive coaching company that helps successful people become exceptional leaders and worry-free, purpose-driven human beings. The tools and methods you will find here have been implemented with dozens of corporate teams and hundreds of leaders, in now more than 17 countries to remove the limitations that are holding them back from getting clear on their purpose and creating the life they truly desire.
To be clear, you have to be a superstar to get here. 
I coach already successful people who want to feel as successful on the inside as they look on the outside. Having held C-suite positions myself at global companies for over 10 years in a variety of function areas, and helming my own 7-figure business, I know how frustrating it is to feel stuck or not have clarity about what to do next, and how not ok it is that you're a "best kept secret." If this resonates, I am ready to roll up my sleeves with you and deliver transformational, forward-thinking coaching to you. 
I hold gold-standard accreditations from the International Coaching Federation, as well as advanced degrees from The London School of Economics, and reside in Austin, TX with my husband, Ryan, and our four amazing pets. 
If you feel you are truly ready to rise to your next level and invest this time in yourself for an unshakable mindset, sign up for my most elite one-on-one course to clearly define your purpose, master your time, establish your thought leadership and push your success through the roof.
I know you have serious goals to conquer. This private coaching program is your chance to create clarity ahead and awaken a deeper power within so you can enjoy spectacular success.
Having myself gone from a frustrated, stunted, and burned-out management-level employee and maxed-out human being to a world-recognized leadership psychology expert, accredited coach, and speaker into a happy relationship, I can teach you both the tactical and emotional skills needed to turn your life into the ultimate joyful adventure.
How do you know if I am your coach for you?
If you have been on the fence and wondering whether coaching is worth it – let me save you some time: get world-class coaching now.
Look for:
Accreditation

Background (for example, if you are a C-suite executive or founder, you may seek someone with actual experience in these positions)

And rapport.
That's right: you have to like the coach. This is an intimate, brutally honest relationship. Personal connection is a must. 
Imagine uncovering your blindspots so you can become aware of what's blocking you and change it.
Imagine waking up eager and working with ease and flow. Imagine joyful, reciprocal relationships. That's what you will find through this program.
Just as any Olympic champion sees the importance of a talented coach reshaping their mindset to raise the level of their game to new heights, trust that you might be able to learn something here. 
At the very least, accept this: whatever consistent thoughts you consistently practice have only brought you as far as you now are. If you want to go to the next level (and in life, you always want to go to the next level), it will require a new level of thinking. That is what's on or off here.
SIGN UP TO:
• Work with a master coach, focused solely and whole heartedly on your success
• Overcome your limiting beliefs about what you are capable of
• Master relationships from a Win-Win mentality versus through manipulation and force
• Develop unshakeable confidence in your unique abilities by understanding your leverage
• Be seen and recognized for your talents
• Create a career and personal life that is fully charged with fulfillment & freedom
• Achieve your goals with purpose, focus and ease
HERE'S WHAT
PRIVATE COACHING INCLUDES: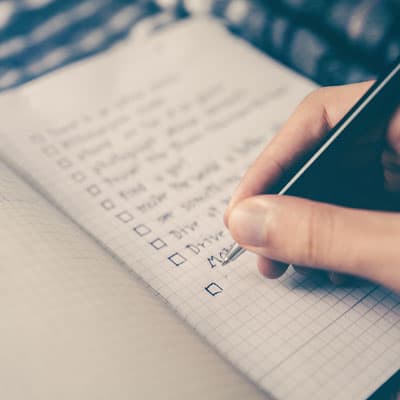 A Custom Performance Profile
(Assessments include: DISC, Motivators, Gallup Strengths)
In-depth worksheets accompanying each module, or "step"
12 full-hour, in-person private coaching sessions with Coach Keren
12 Video Modules, Audio Modules, and Worksheets to accompany our work

Custom reading list

Unlimited personal access to me via email between sessions
HERE'S THE CORE CURRICULUM – OUR STARTING POINT: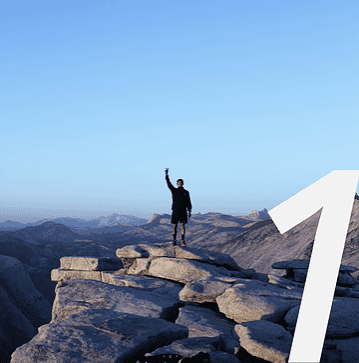 Module 1- WELCOME TO POSSIBILITY: THE BEGINNER'S MINDSET
In this first week, I take you to the starting point of everything: understanding that you don't know what you don't know. If you don't know what you don't know – we aim to uncover what you've been missing all along and how you can shift your perspective about your present circumstances, forever changing your story.
Module 2 - WHY YOU DO WHAT YOU DO
Get ready to uncover your beliefs and motivators. In this segment we explain what the underlying basic human emotional needs are, how they have unconsciously directed your choices, and how you can rise into higher directives for the creation of an easier, more meaningful and more successful existence.
Here's the deal: you can't transform what you're not conscious of. To that end, this module will help us come together and shed light on that which has been running your show – so that you can change it.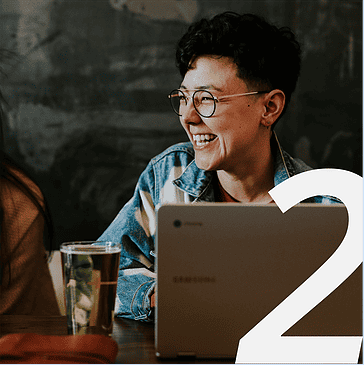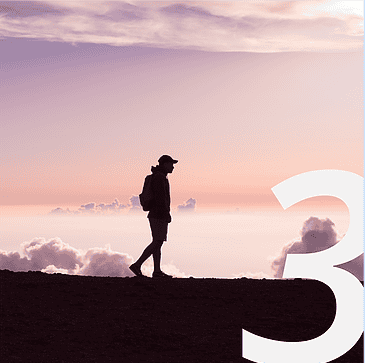 Module 3 - ACCEPT YOURSELF
Every person on the planet has a deep-seated fear that they are not enough, that they are somehow not measuring up, that they are "less than." From Impostor Syndrome to settling for way less than you are capable of reaching, we are about to resolve this and rise from the punishing annals of invulnerability, incuriousness and perfectionism into greater ease and equanimity – the emotional mastery that will afford you a better life.  After hearing my personal story, we'll be diving deep into uncovering yours. In uncovering your "measuring up" story, you'll see whose "rules" you've been playing by that no longer serve you, and how to transform them. With practical steps and concrete instruction, I will guide you into fully accepting yourself.
Module 4 - UNCOVERING YOUR PURPOSE
I help break down one of the most difficult concepts in life and business: Purpose. Purpose doesn't have to be a mystery or enormous and unattainable goal, and you don't have to fear the perceived judgment of following any desire YOU deem worthy of your attention in this life. There is a way to find what feels right to you and to create a purposeful vision that works for you and for everyone involved.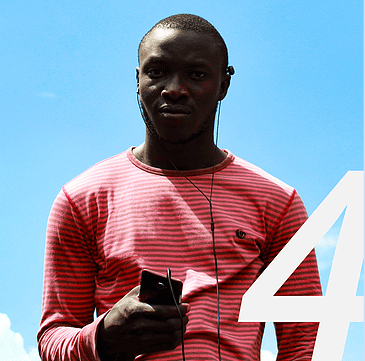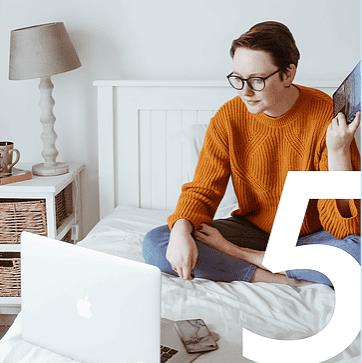 Module 5 - CREATE YOUR ACTION PLAN
In Module 5, we move into action AFTER finding our desired clarity. After all, if we created our goals at the onset on top of all that blockage, it wouldn't yield much progress, would it? I guide you here through my number one tool for creating your ultimate, foolproof action plan, plus give you all my personal systems for focus and discipline to help you up your game on a daily basis.
Module 6 - HOW TO "SOLVE FOR HAPPY"
There is a master framework at work here, and it's the aim for happiness. In this module, I introduce you to the main focus of Positive to convince you that happiness is all you really want and to walk you through the key steps to guarantee happiness. With inspiring stories and lessons from me on how to create happiness within yourself on a daily basis.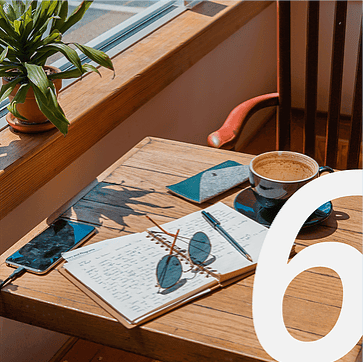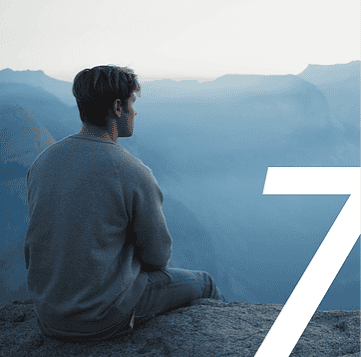 Module 7 - THE LAW OF ATTRACTION
This module is where it all starts to "click into place:" where you begin to understand the laws of physics and how to harness them more directly towards what you truly want, rather than asking them to just carry you along through life. From creating and living according to your values, setting boundaries, prioritizing pleasure and play, raising your standards and learning what to look out for, this is the module that will become your basis for being and for creating a deliberate, focused reality.
Module 8 - YOUR NEW CONSCIOUSNESS: SUPERSTAR INFLUENCE
You've now done the inner and external (action oriented) work to discover your ultimate vision, take charge of your belief system, activate your superpowers and get going on your goal for the year. In this final Module, you will get clear on how you can step into your new way of being and stay there- starting TODAY.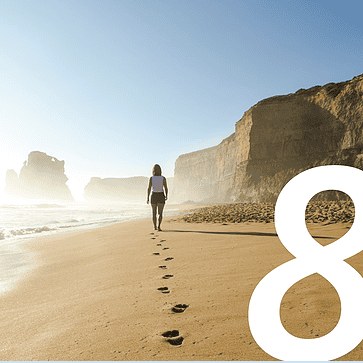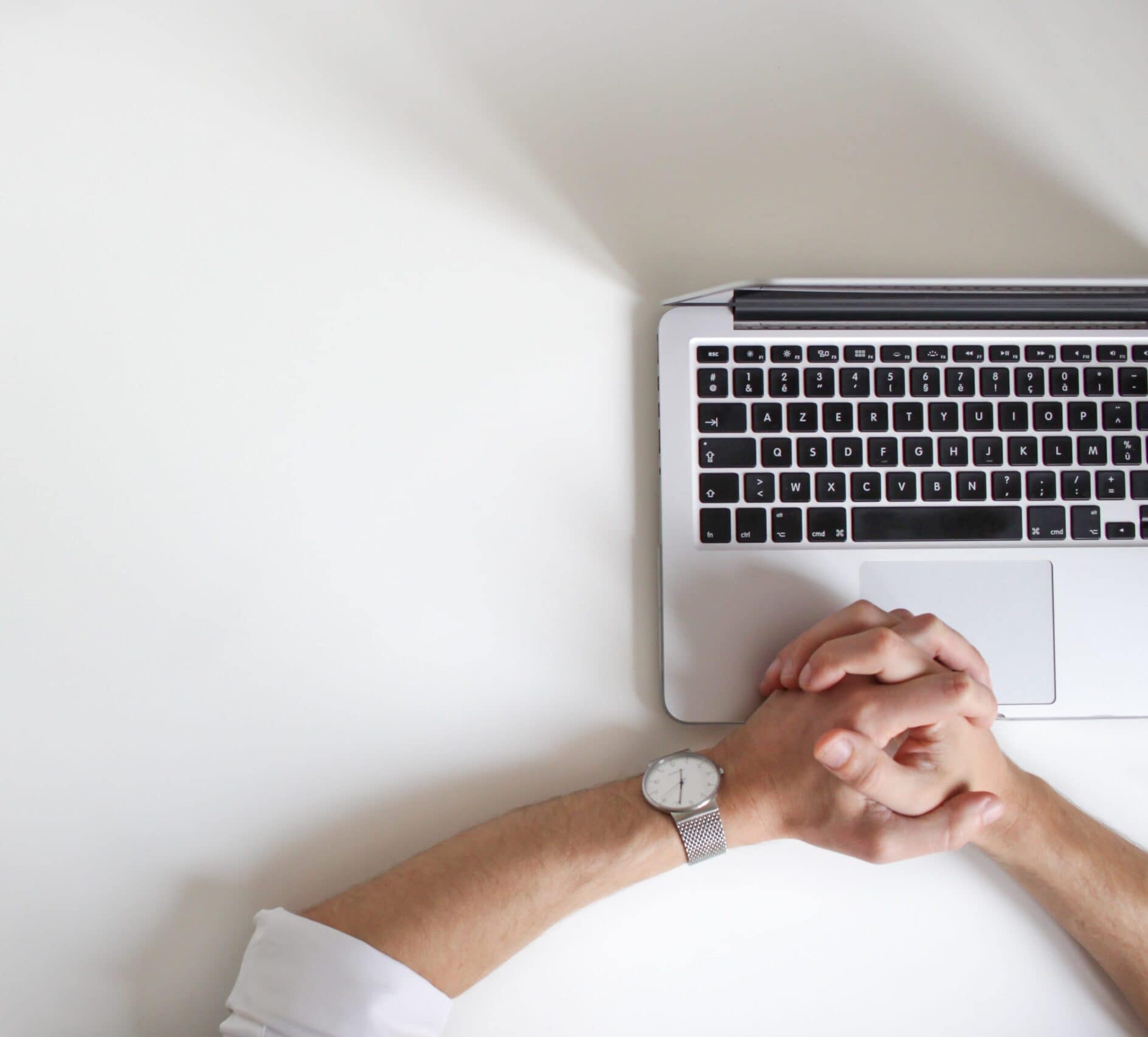 Module 9-12
Will be determined based on your leadership and executive needs.

Frequently Asked Questions
I hope these help you. If you have any further questions, book your coaching strategy session now and I will be happy to address them all.
WHAT PEOPLE ARE SAYING ABOUT
WORKING WITH COACH KEREN: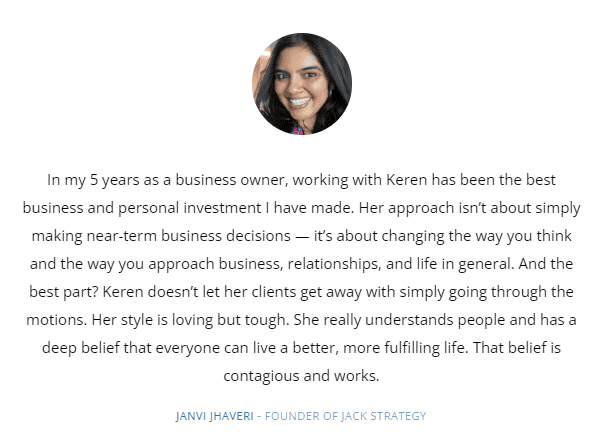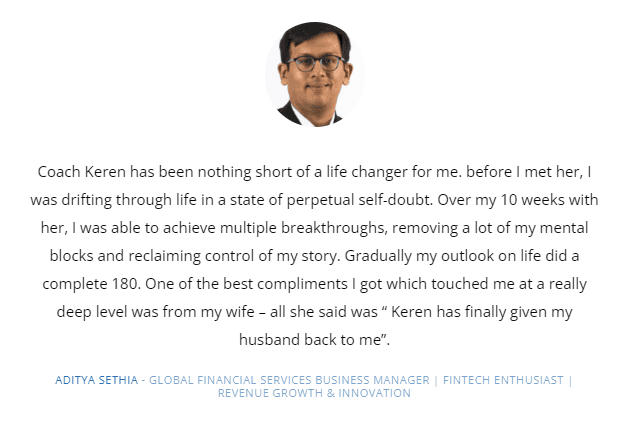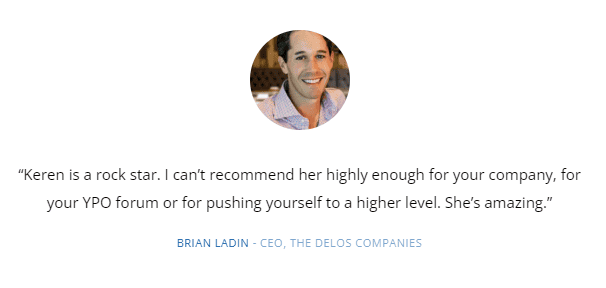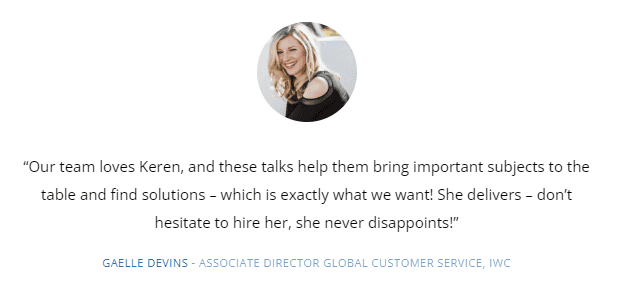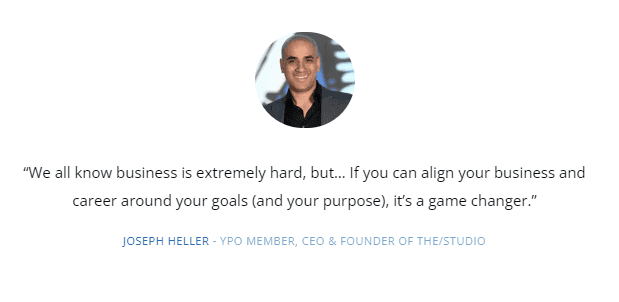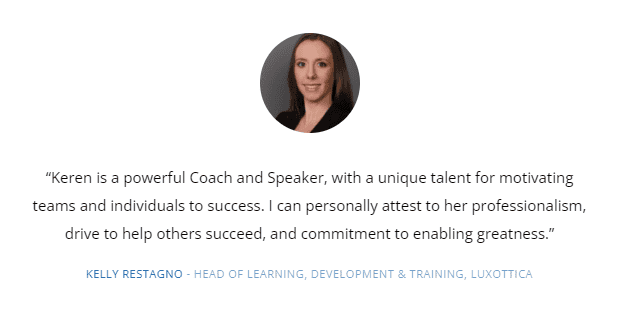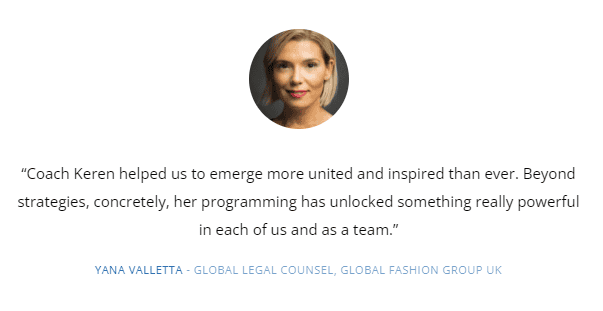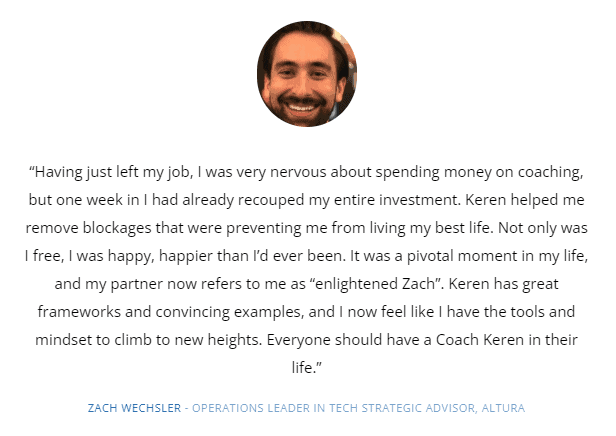 MORE OF WHAT PEOPLE ARE SAYING ABOUT WORKING WITH COACH KEREN HERE: